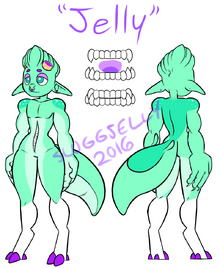 SLUGGJELLY is not a proper music mascot for AUDMONSTERS, but instead they are the creator of the Ditzy Doe alias, and they use SLUGGJELLY as a general username. They are a recurring artist and create album art and other graphics for AUDMONSTERS. They are the founder of the AUDMONSTERS wikia.
They imitate the style of Skelefrog to create some portraits of musicians on the ARTISTS page on the official AUDMONSTERS website. They provided the images for Office, The Newt One, Plasterbrain, and the sketch for Mitomoro.
Cover Art
Edit
For this name, they use a monster persona named Jelly, who is described as a fusion between troll, ogre, deer, and slug.